God has a remarkable way of speaking to us, even in our darkest times, with messages of grace.
All of us who were in or around New York City remember September 11, and the days that immediately followed.  The ruins of the Twin Towers burned.  A haze of smoke filled the city, and the smell was everywhere.  The desperate search for survivors, although hope was fading.  The feelings of fear, sadness, powerlessness — and anger.
Thursday of that week — just two days after the terrorist attacks — happened to be the 23rd week in Ordinary Time according to the liturgical calendar.  The Lectionary for that day presented us with what is perhaps Jesus' hardest teaching, from Luke 6:27-38:
"But to you who hear I say, love your enemies, do good to those who hate you, bless those who curse you, pray for those who mistreat you.  To the person who strikes you on one cheek, offer the other one as well, and from the person who takes your cloak, do not withhold even your tunic. Give to everyone who asks of you, and from the one who takes what is yours do not demand it back. Do to others as you would have them do to you. For if you love those who love you, what credit is that to you? Even sinners love those who love them. And if you do good to those who do good to you, what credit is that to you? Even sinners do the same. If you lend money to those from whom you expect repayment, what credit (is) that to you? Even sinners lend to sinners, and get back the same amount. But rather, love your enemies and do good to them, and lend expecting nothing back; then your reward will be great and you will be children of the Most High, for he himself is kind to the ungrateful and the wicked. Be merciful, just as (also) your Father is merciful. "Stop judging and you will not be judged. Stop condemning and you will not be condemned. Forgive and you will be forgiven. Give and gifts will be given to you; a good measure, packed together, shaken down, and overflowing, will be poured into your lap. For the measure with which you measure will in return be measured out to you."
This is indeed a hard saying, but the message was clear.  There can be no doubt that the only way for us ever to emerge from the cycle of sin, violence, revenge, and destruction is to embrace Jesus' message of love — even for our enemies.  Until that time, we must of course defend ourselves against aggression.  But the only ultimate answer is love and forgiveness.
In case the message wasn't clear enough, God taught us the lesson with a most dramatic symbol.  On September 13, a remarkable discovery was made in the rubble of the Towers.  It was two steel beams, in the shape of a cross — the now-famous Ground Zero Cross.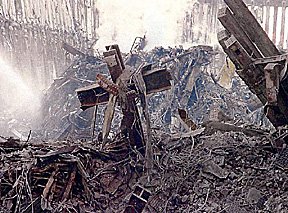 This reminder of the redemptive Cross of Christ, in the heart of destruction, buoyed the faith of many who were working at Ground Zero, and continues to be a symbol of the hope of the resurrection.
Finally, just in case we needed a further lesson, the next day, Friday, September 14, 2001, was the feast of the Triumph of the Holy Cross.
There is no hope for us unless it comes from the Cross.  We will never know true peace or true freedom, until the Cross triumphs over our selfishness, anger, and sinfulness.  The Cross rose from the rubble of Ground Zero.  We need it to rise over our hearts as well.
Tags: September 11